Fiction / 26 min /
Full HD / Stereo / release 2019-2020
In the cryobank, a male and female individual must pass through various stages of patterning to cryonize their fertile cells, while a powerful woman in a protected private space uses alchemical techniques searching for the serum of youth.

For millennia the humanity breeds plants (and animals). Breeding refers to the selection and controlled reproduction of two individuals of a species that have certain desired characteristics. These characteristics should persist and unwanted characteristics should be suppressed. In the future fertilization and reproduction happen consciously and not randomly any longer. Men and women go, independently of each other, to an exclusive place of anonymity and relaxation, where they alone can perform their customised fertilisation rituals in the private space of retreat. The individual modules which are necessary for a successful fecundation were extracted from the body and were safely stored in the
Cryobank.
Unlike in our today's artificial insemination, when only partly the process can take place outside the body, in
CYTOLOVE
we witness reproduction and sexuality being absolutely separated.
All male and female individuals between 18 and 25 years in age, living in their phase of best quality reproduction genes, must pass a morphological, physical, anatomical and genetical examination. This process is similar to a mustering. This is a once-in-a-life-time examination. It is legally defined and culturally established. The verification is a landmark in each individual's life, it represents the initiation to a hedonistic infertile indivdual. The Kryobank is the cloud for fertile cells, the male and female features for reproduction. At the same time Kryobank collects big data that makes the individual more transparent than ever before. With in-vitro-fertilization preimplantation genetic diagnosis can detect chromosome damage as well as hundreds of a total of four thousand monogenic genetic diseases. In addition, the determination of genetic risk factors such as breast cancer, etc. From the genome there can also be read eye color and hair color, estimated height and sex of the unborn child, and the likelihood of developing high IQs, stronger muscles or musical abilities. May we intervene in evolution in this way? The first IVF was performed in 1978, without any possible long-term consequences.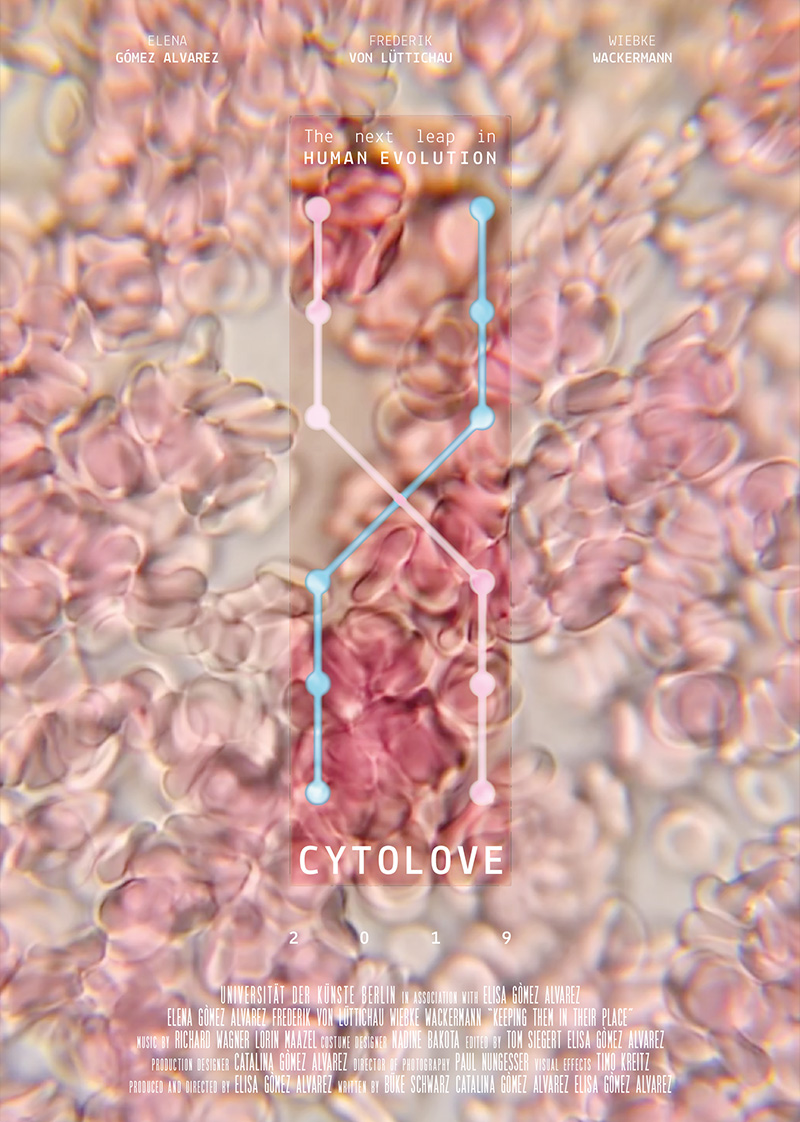 Produktion title: CYTOLOVE
Genre: Experimental-/ Science-Fiction-/ Music film
Length: 26 minutes
Language: No
Aspect ratio: 1 : 266 cinemascope
Resolution: HD color
Producer: Elisa Gómez Alvarez
Shooting begin: March 2017
Shooting days: 13 days
First release: Work in progress (planned release 2019)
Shooting locations: Green screen studio, Malzfabrik, NH Collection Berlin
Starring: Elena Gomez Alvarez, Frederik von Lüttichau, Wiebke Wackermann
Written by Elisa Gomez Alvarez, Catalina Gomez Alvarez, Büke Schwarz
Associate Producer: Büke Schwarz
Director: Elisa Gómez Alvarez
Director of Photography: Paul Nungeßer
Art Director: Catalina Gómez Alvarez
Costume Designer & Make-Up Artist: Nadine Bakota
Visual Effects Supervisor: Timo Kreitz
Editors: Elisa Gómez Alvarez, Tom Siegert
Casting Director: Büke Schwarz
Kryobank Staff: Sinha Melina Gierke, Kludi Marohn, Nadine Bakota, Catalina Gómez Alvarez, Catharina Sonnenberg, Ena Kamenkovic, Heiner Radau, Yusuke Yamasaki, Luisa Celine Gaffron, Esther Hilsemer, Dovile Aleksaite, Lodi Doumit
Woman in Red: Nadine Bakota